There are a lot of cockatiel toys on the market today, but most that I find are marketed for budgerigars. Most toys for budgies are more than suitable for cockatiels, even though a cockatiel is about three times the size of a budgie.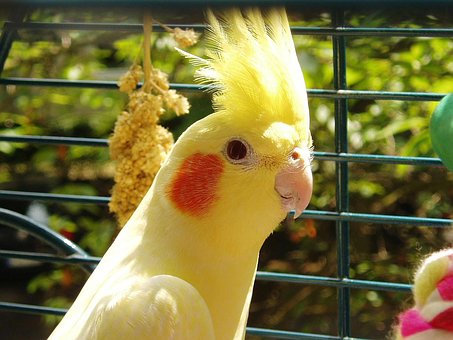 Before giving your cockatiel toys, check that they are robust and have no sharp projections on or inside the toy that could cause injury if exposed.
Remember that cockatiels love to chew, so make sure that the materials that the cockatiel toys are made from are non-toxic.

The simpler toys are normally best.
Cockatiels love things like mirrors and ladders.
They don't enjoy swings as much as budgerigars do and would prefer another high perch to a swing. Although there are exceptions to this rule.
They might find some stimulation in pushing a ping pong ball around with their beaks. When it gets dirty, simply wipe with some paper towelling.
My cockatiels love to tear paper, which is very messy, but at least they are having fun.
If you are out a lot during the day, leave a radio turned on for companionship, especially if you only have one bird.
The next option is to get a second cockatiel for the company.
Cockatiels are gentle and sociable birds by nature, and although they may squabble, they rarely get into serious fights, unless you have two males with one female.
Two cockatiels of the same sex will also get on well, unlike larger parrots who can fight violently with each other.
Best Cockatiel Toys
Here are some of the best cockatiel toys that you can purchase online. In most cases, buying online is cheaper than purchasing the cockatiel toys at your local pet shop.
If you are interested in any of the toys, simply click on the picture or the link above to find out more.
Made from pure natural wood & rattan, there is no glue, wire or plastic.

Hand-woven.

Your bird will love chewing on this one.

These sorts of essential activities keep your bird physically & mentally healthy.

These make good bird toys for Parrots, Parakeets, Cockatiels, Conures, Lovebirds, Budgies and African Greys.
Most birds will like to peck on this one to try and get the stuff out of the ball.
 "I purchased this toy for my two rescue budgies and they LOVE IT. This is the only toy they will play with, other than their ladder. They have had this toy for about two months now and it is holding up well. Very pleased. When this one is finally destroyed, I will be coming back for another if/when this one ever wears out. My budgies rate this as "two wings up"!
Full-loaded activity centre to keep birds active.

Place it on top of the cage to give birds a change of scenery.

Features rope perches, ladders, swings, bells and toys.

Choose from several sizes (based on availability).

Playpens have more perches and ladders as they get bigger.
Cockatiel playgrounds are the rage at the moment.
Size:22cm*6cm/8.7" x 2.4".

These make great chewing toys for small to medium pet birds.

Destructible toys satisfy a bird's natural instinct to chew.

Made of bamboo weaving with lots of acrylic beads for chewing, paper to pull and shred.

You can refill the bamboo weaving with treats, wood or crinkle paper.

Quick link type cage connectors.

Bwogue toy designs use a diverse selection of stimulating bird-safe materials to ensure the mental and physical well being of pet birds.
Material: Colourful Wood.

Bird swing toys, made with timber, edible dye painting.

Bright colours to attract parrot and small animals' attention.

Suitable for all kind of pet birds like parrots, parakeets, cockatiels and lovebirds.

Can also be used for other small pets like squirrel, chipmunk, mice, and hamster.

Match with parrot acrylic pendant necklace, which also can hang in the birdcage for bird chew and play! (Length: 13.7 inches) Acrylic chain toy is hard to destroy in a short period. 

Package includes 5pcs as seen in the picture.
A soft, comfortable and private space for your pet bird – Kintor pet cave toy is made of a soft mat and fuzzy canvas!

A Fun and Intelligence Improvement Companion – Kintor hanging parrot bird hammock is a vibrant habitat for your birds, it stimulates and entertains them with exercise and fun!

Easy to Install, disassemble and wash – Kintor bird nesting bed is made of a quality fast hook, removable steel frame and quality washable canvas material. It is 100% pet-owner-friendly toy!
To be honest, this is the type of toy your cockatiel may take a while to get used to. I introduced something like this one to an older cockatiel I used to have and he was petrified of it.
It may work better by introducing this type of toy to a younger bird.
359 Mini Taco Foraging.

Measuring about 6 inches wide and about 66 inches high.

Great for smaller birds.

A plethora of beak happy fun.

All bird safe materials.
Cutest Animal Fluffy Strap made with a material you would love to have

Made for Smartphone and needs a strap hole to attach the strap

Available in a number of different cute bird types sold exclusively by Hamee

So soft to touch that you can't be away from it once you touch it.
Ok, so this is more a person toy than a cockatiel toy, but there are birds who love it.
"I thought the medium would have been a bit larger. But I can't complain. My cockatiel thought it was real! He started singing and dancing for it. Great stuffed animal. The medium is as big as an adult hand, beginning of wrist to fingertip. Maybe smaller. Come down in price by a buck or 2 and I will buy all of them."
To see more small bird toys, click here.