Let's look at bird perches parrots can use and will love, as all perches are not equal and we need to keep the well-being and happiness of our little feathered friends at heart here.
Please note that this post may contain affiliate links.
There has been a trend until recent years to fit plastic perches in flight cages. Although in theory these perches are easy to keep clean, it is possible for their hollow interiors to become home to the red mite parasite.
Plastic perches are especially unsuitable for members of the parrot family for the following reasons:
Parrots naturally keep their beaks trimmed by gnawing at branches, and the plastic perches won't stand up to this.
Some birds find the ridged design uncomfortable after a period, probably because they are of even diameter and offer no variety in perching grip. This results in the bird spending more time clinging onto the sides of the cage than sitting on his perch.
Dowel perches are sometimes supplied with cages, but these to have the drawback of being a constant diameter. However, they do not appear to cause the birds as much discomfort as plastic perches. The good part is that they can be scrubbed off easily.
Larger parrots can chew through dowel perches quite quickly, so you will need to replace these quite often.
So What Are The Best Bird Perches Parrots Will Love?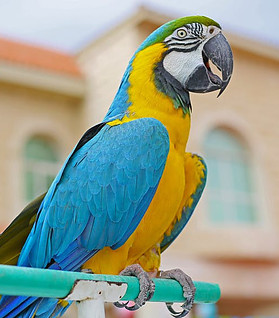 Natural branches cut from non-poisonous trees such as apple are the best bird perches parrots can enjoy. Be careful not to use wood that may have been sprayed recently.
Parrots especially will gnaw the bark and may swallow some of the slivers, in which case they could poison themselves.
Best Wood For Bird Perches:
Apple, Sycamore and Elder.
Worst Wood For Bird Perches:
Laburnum, Lilac and Yew.
Sycamore is a good choice because it is relatively hard and grows straight, so it is easy to cut bird perches to the requisite length.
Elder is softer than sycamore and provides an outlet for parrots at their most destructive, although its gnarled bark makes it harder to clean than sycamore.
In all cases, it is a good idea to wash off branches before placing them in the bird's quarters, just in case they have been spoiled by wild birds previously.
When cutting branches to fit in a flight cage, allow for an overlap at the ends in order to hold the branches firmly in place.
If you use wire to fix the perch, make sure that this is located safely outside the cage.
Do not use string because this could choke a bird if it swallows any of the fibers, and there is also a risk of the bird becoming entangled.
The width of the perch is very important.
The diameter should be sufficiently broad to allow the bird to sit comfortably, without its front claws coming into direct contact with its rear toes.
If not, the bird may encounter difficulties in perching easily, and if its sharp claws puncture the under surface of the rear toes, there is a risk, especially in mynah birds, that an infection could develop.
If budgerigars are kept in cages with perches of constant diameter, pressure sores will develop, and these are likely to become infected, creating the condition often described as bumble foot.
Even if the perching facilities are improved at this stage, treatment of the condition is likely to be difficult, because of its deep-seated nature, with the situation being made worst if the bird is obese because of lack of exercise.
Best Bird Perches Parrots And Other Species Will Enjoy
These are the best pick of perches that can be purchased online. This is especially useful if you don't have a sycamore tree or an apple tree growing in your back yard.
Simply click on the link or on the picture to find out more about the product.
These bird perches are made of natural pepper wood without paint.
Non-toxic and completely safe for your pet to chew.
Strong and stable with 2 high quality washers make it easy to install.
There are different size options. Make sure to pick your size according to the sized bird you have.
The uneven surface of the perch provides good exercise and a foot massage for your pet.
Design idea from the wild, as birds always stand on the tree branch to talk or play with each other.
Can accommodate 3 to 4 birds at a time.
100% natural ash wood and safe to chew.
Easy to install to top of cage with attached screw.
Better for small parrots like cockatiels, lovebirds and parakeets.
Made of natural wood without paint.
Stainless steel washers for easy installation.
Different size options to choose from to suit your parrot.
Promotes exercise as well as healthy feet.
Java wood multi branch perch.
Varied diameter to exercise your birds feet.
Environmentally friendly as these are the left over pieces of wood from non fruit baring coffee trees.
Made of natural and non-toxic fir wood.
Fun to climb, play and rest on, and doesn't take up a lot of space in the cage.
Easy to clean and durable.