When considering what to feed cockatiels, you need to think about what cockatiels would generally consume out there in the wild. Finding a diet that best suits their natural diet will help avoid future health problems and complications.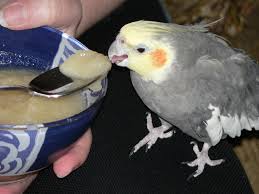 Cockatiels are generally the most easy pets to care for, and if looked after well they hardly ever get sick.
Most times cockatiels are happy with a mixture of sunflower and budgie seeds, but it is always good to offer your bird a variety of different food types, like fresh vegetables and fruit.  Make sure these are as fresh as possible and avoid letting them feed on servings that have gone bad. It is best to feed cockatiels during morning or evening hours. This is because those are the times they would normally forage for food out there in the wild.
What To Feed Cockatiels?
These are the most ideal vegetables to try on your cockatiel:
Carrots and Carrot Leaves
Cucumbers
Leafy Greens
Sweet Peppers
Cauliflower
Broccoli
Eggplant
Green Beans
Lettuce
How you serve these vegetables doesn't really matter, but you could cook slightly and serve warm. Avoid giving your cockatiel too much lettuce as it could cause him to get a runny stomach.
These are the most ideal fruits for your cockatiel
Varieties of Berries
Cantaloupes
Nectarines
Papaya
Kiwi Fruit
Pomegranates
Bananas
Apples
Pears
Never ever give your cockatiel any avocado pear. They are not equipped to digest this and it could prove fatal.
If you would like to learn how to make your own cockatiel food, go to homemade cockatiel food here.