Before I look at the Wesco Pet Original Bird Kabob Shreddable Bird Toy, I have a video to show you about where you can use this amazing toy.
This is a really helpful video if you want to save money and build your own parrot playground. It will work for any bird, just vary the size according to the type of bird.
He has a wonderful idea of putting toys or hiding treats on the stand for your bird to find. This is a great way to ensure your bird will enjoy being out of his cage on his stand, especially if he knows there are special treats hidden.
The Wesco Pet Original Bird Kabob Shreddable Bird Toy is just one example of something you can use on the parrot stand.
 Wesco Pet Original Bird Kabob Shreddable Bird Toy Review
You can get your own Wesco Shreddable Bird Toy by clicking on the link or the picture below.
This is an affiliate link.
Overall Rating (based on customer reviews): 4.5 out of 5 stars
The specs of 'Wesco Pet Original Bird Kabob Shreddable Bird Toy' are:
Manufacturer: Wesco Pet / Bird Kabob
Product Dimensions: 7 x 2 x 2 inches
Shipping Weight: 6.4 ounces
This toy is made from eco-friendly Yucca wood.

It appeals to all parrot-type birds' natural instincts.

Helps prevent feather picking and boredom.

100% biodegradable.

4 Pack Original (6.75″ Long x 2″ Wide) for more chew time.
The product can be bought in two's and one's as well if you just want to try them out first.
This is a close-up picture of this bird toy.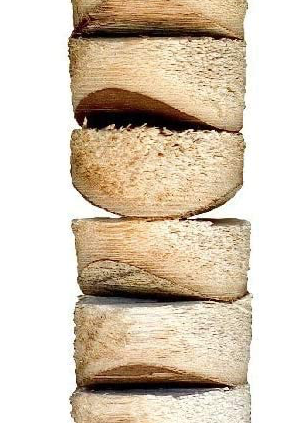 Bird Kabobs are the ultimate in shreddable bird toys.
They are made from soft pithy wood and are irresistible to all hookbill birds from parakeets to macaws.
They satisfy the instinctual need of these birds to chew. They have been described as bird catnip.
The Wesco Pet Original Bird Kabob Shreddable Bird Toy is recommended by veterinarians for birds with feather picking problems.
This is a popular buy for bird lovers worldwide and you will be amazed at how much your bird will enjoy this toy.
There is softer wood around the outside and harder wood on the inside. Both are safe for your bird. They will normally happily pick their way through to the core of the product.
Does This Product Have Any Downsides?
Unfortunately, the only downside about this product is that it doesn't last long as birds chew through it very quickly. On the bright side though it does keep them busy and entertained. But it can get expensive if you replace them often.
Some people with larger parrots complain that the toy only lasts a few hours.
The larger the bird, the quicker the toy will be demolished. My two budgies go through it in 3 to 4 days.
The only other thing that you need to watch for is that the bird doesn't get caught up in the string that ties the product to the cage.
Here are some more exciting shreddable bird toys you may like to look at. You can find out more by clicking on the picture.
Please feel free to comment below if you have had any experiences with any of these bird toys. I would love to hear from you.