It's been a long time since I have done a personal post on this blog but it's long overdue. At the moment my pet birds consists of one cockatiel (sadly just lost one), two budgies and one bare-eyed goffin cockatoo.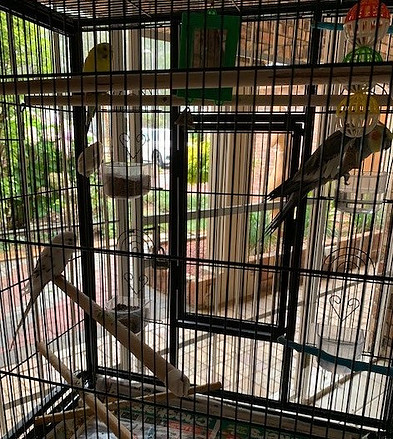 We have just moved house. It was quite a process as we had to move eighteen years of accumulated stuff and sort through what we wanted and what we didn't. You can just imagine all the de cluttering we had to do.
Luckily we only have to be out of the house by the end of January, so we have been fortunate to have two months to move into our new house at our leisure and discard junk as we saw what we would and wouldn't need.
It was a huge decision for me how I was going to move the aviary in my garden which housed my pet birds which consisted of two cockatiels and a cockatoo. Eventually I decided that the best thing to do was to buy two smaller cages to house them in and join my two budgies, who lived in a smaller cage inside in with the cockatiels.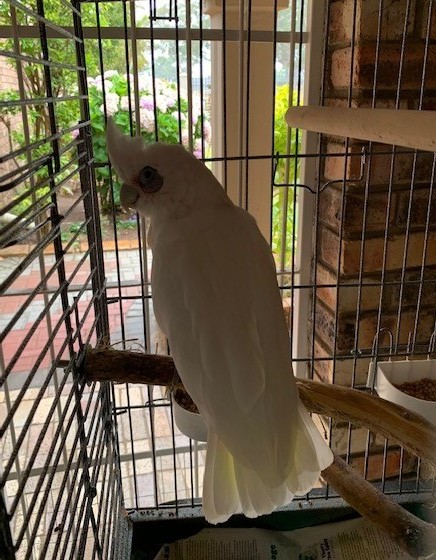 Unfortunately my Lutino Cockatiel didn't take to the move kindly, and she didn't look happy having to share her space with the budgies. I couldn't get her to eat and eventually had to force feed.
She was maybe old, but just after new years she had a fit in my hand and just died – it was so sad, and very unexpected.
I have a grey now, Skyla, who spends his day being chased by my white budgie Rosie. She just loves him, but he wants nothing to do with her. The other budgie is calm and just observes life.
I must say now that my pet birds are on our veranda, I definitely have a lot more interaction with them than I did before when they were out in the garden and they all seem to have gotten tamer in the process.
I have found new aspects in all their personalities, and there is quite a bit of jealousy when I scratch my cockatiels head from the one budgie.
I don't think I am going to move the avairy after all, as I prefer having the birds closer as they are more like pets again and I think they are all loving the extra attention that they get from the family.
The cages are also a lot easier to manage and keep clean.
I would like to take this opportunity to wish all my readers a wonderful and prosperous 2020 and may all your dreams come true in the near future. I welcome your comments and feedback on this website as I always have so keep them coming.