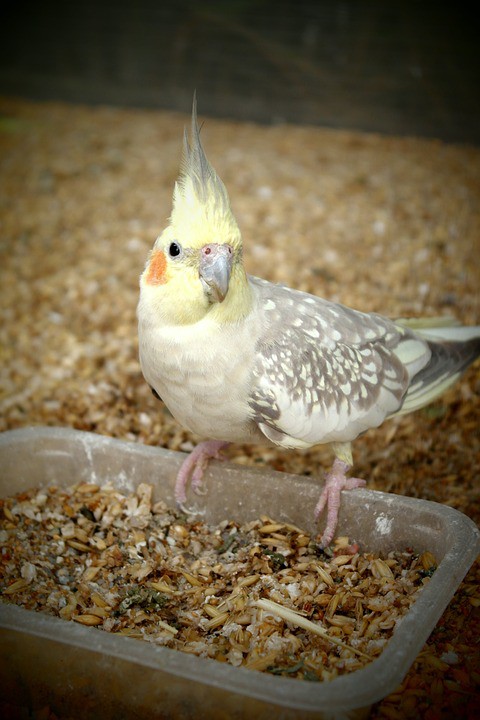 Are cockatiel treats necessary?
Well, how would you like to live on a diet of seeds and nothing else day after day?
Just like humans, cockatiels enjoy a bit of variety in their diets, and any pet lover will tell you that they always have a stash of treats available for their pets. The question is what cockatiel treats are both healthy and tasty. Here I found a few you can purchase online that are both healthy, tasty, and won't break the bank.
Cockatiel treats are also great training tools. You can give your bird a treat each time he or she does well in your training sessions together.
Cockatiel Treats Your Bird Will Love
This is a perfect example of tasty and nutritious cockatiel treats for your bird.

The sticks are ideal for adding variety to his diet.

The highest quality grains are used to make these sticks.

Wholesome, palatable ingredients promote the bird's natural foraging behaviour.

By hanging one of these honey treat sticks in your bird's cage, you also help to combat boredom.
Classic Nutri-Berries are excellent as a complete meal or as a special treat for your bird.

Nutri-berries are nutritionally balanced and naturally preserved.

The berries contain both Omega 3 and 6 in a balanced form.

Naturally flavoured with molasses.

Convenient to feed and your bird will love them.
Contrary to what many believe, birds don't eat with just their beaks, they eat with their brains too.
In the wild, a bird will hunt for all kinds of food. Colourful and flavourful foods, foods that are fun and colourful foods. Intuitively, they will get the foods they need. This is not always so in a caged environment.
Your bird will thrive on the stimulation and beak exercise it provides. In fact, 96% of the berry gets eaten. This means that it's not just smart nutrition, it's a smart buy, too.
So minimum waste = maximum nutrition. Nutri-Berries are made with savoury peanuts, hu savoury nary seed, cracked corn and other tempting ingredients. They're colourful, richly textured and invitingly shaped. It's a difference your bird can see, taste and touch.
Nutri-Berries are at treat that your cockatiel will love and are a very popular buy.
Fortified With An Extruded Nugget Which Contains Probiotics For Digestive Tract Health.

Contains Dha An Omega-3 Fatty Acid For Healthy Skin And Feathers.

Made for smaller parrots, cockatiels and lovebirds.

A delicious cockatiel treat to add to their food bowl on occasion.
And this is a review is from a happy customer:
By 

Bella Mae 

on February 4, 2016

I have a Goffin Cockatoo who is extremely picky! I have tried so many different kinds of fruit & nut mixes and I almost gave up.

I came across Sunseed's Fantasy Fruit Mix & decided for the price I would give it ago. And if my Bingo didn't like it I would just make my own mix of her favourites. When it arrived I took it to her cage to show her & she reached her hand out to grab it. When she does that she is telling me she is interested! So I took a little out & put some of the fantasy fruit mix on top of her seed mix. And she darted to the bowl! At first, she began tossing it over her head, which she does to everything. And then she picked through & got a few pieces and went to her perch & began eating.

I was so very happy because it's essential for cockatoos to have fruit & nuts in their diet. She doesn't like fresh fruits besides Mangos & Pineapples which she won't touch them after a few days almost like she gets bored. So having some fruit/seed mix to throw in with her everyday seed mix makes me feel good as her parent!

Overall I am very pleased with this seed & fruit mix. It has a very nice mix of fruits and seeds she especially likes the bananas & the rolled peas. But eats all of the contents & doesn't waste any. Well except when she tosses a handful over her head. I definitely recommend this to anyone who has a Cockatoo or a Cockatiel. I am sure any breed of birds that can have a fruit/seed mix would love what Sunseed Fantasy Fruit Mix offers. And as for the price, you can't beat it!

And last but not least. Which cockatiel or bird can resist a spray of millet.
This is one of the best cockatiel treats for lovebirds, cockatiels, finches, parakeets and all small parrots.

All Natural – No Fillers or Additives.

Grown in the USA.

12 millet sprays in each bag.
Millet is something I always have in the cupboard for my birds when I can get hold of it.
I hope you have found some great ideas of cockatiel treats here, and you spoil your pet with some of these delicious foods. If you want to learn how to make your own bird food, click here.