A cockatiel is, to me, one of the best types of pets a person could have.  I have owned or had a cockatiel or cockatiels in my home since the age of 8. Once we had our first one, the addiction was there for our family.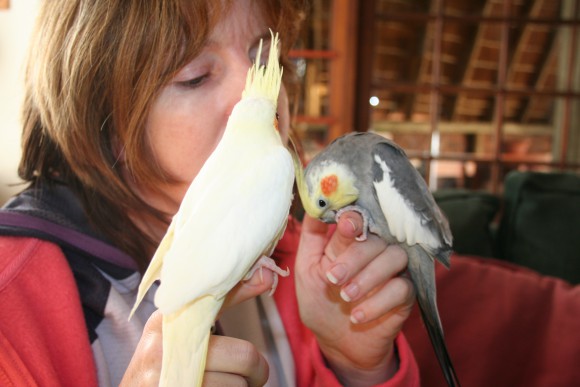 Strangely the first cockatiel that we ever owned happened one weekend when we were on our family farm.  A grey cockatiel flew out of the heavens and landed on my fathers head.  He of course got such a fright and then tried to chase it away, thinking at first it was a pigeon that was making a nuisance of itself.
Well, that first cockatiel that we named Zanadu decided that my Dads shoulder was the place to be and they developed a good relationship.  I remember Zanadu was not a very friendly cockatiel, and he would try to bite and hiss at any of the other members of the family that tried to come near, but he absolutely adored my father. He must have come from a home where he only had one owner.
Once we established nobody was advertising a missing cockatiel, we got him a cage and he moved in as a permanent member of our family.  He would get sooooo excited each time my dad came back from work.  He would jump up and down in his cage, start whistling and say "hello pretty boy."  He would never react the same to anybody else in the family, much as we tried.
We then decided to get him a mate.  Her name was Zooander and although they bickered from time to time, they both got along fine.  Later when Zooander also started saying "hello pretty boy," we realized the that she was actually, a he, as female cockatiels don't talk.
Zooander was tamed and turned out to be the perfect family cockatiel.  He let everybody in the house carry him around, and never bit or hissed at us.  I still have many childhood photographs where there is a cockatiel sitting on one of our shoulders.
Cockatiels make wonderful pets, even for children, although the little ones will need supervision.
Why a Cockatiel
They have wonderful personalities once you get to know them, and each one is different.
They love to socialize with humans and other birds, and you can normally put them in a aviary together with other birds as they are not aggressive by nature.
They are easy to care for.  All they need is a cage, fresh seed, food and water each day, and every few days you need to clean out the bottom of the cage, which is easy if you later with grouting paper or layers of newspaper.
They are inexpensive pets in comparison to dogs or cats, and if well cared for and kept out of drafts, they never get sick.  Vet bills are minimal.
They can be trained to do tricks and talk if you have about 20 minutes a day to spare.  They have the brain capacity of a two year old child, so are pretty clever.
If you go away it is easy to give the cage to a friend to care for them, or you can take them with you.
They are not as noisy as other parrot varieties.  Their noisiest times are mornings before they are fed, and early evenings.
They are clean, as they constantly preen their feathers.  Most of them enjoy a bath, or being sprayed lightly with a spray bottle.
So who knows, if that first cockatiel had never flown out of the skies, I probably would have never known about the joys of owning a owning a cockatiel.