Eclectus parrots as pets are an interesting choice.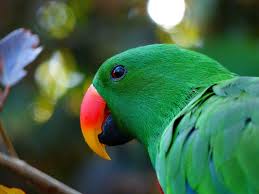 This parrot is native to the Solomon Islands in New Guinea and North Eastern Australia and the Maluku Islands.
The males are normally bright emerald green, and the females are mostly bright red with purple or blue plumage. The difference in the two sexes is extremely rare to see in the parrot family. The females tend to be slightly more aggressive than the males.
In the wild they are considered pests for eating fruit off of the trees. Their bright feathers are used by native tribes people in New Guinea as decorations.
Eclectus Parrots as Pets
If wanting a bird that talks, the Eclectus parrot is an excellent talker and singer as you can see in the video below. They sound very human. They make extremely good pets if they are well trained, and because they are so inquisitive, they learn quickly.

The Eclectus Parrot in the wild has a communal breeding culture, where uncles and aunties help rear young in a creche-like situation. This sharing and caring feature of the Eclectus makes them naturally perfect pets. They also don't produce any feather dust as other parrots do, as they have oil glands which they use for preening. This is great news for people allergic to feather dust.
They like to be kept in calm environments. They can also be kept in with other parrot types, as long as they are introduced in the correct way.
Some people say that Eclectus Parrots as Pets are boring as they tend to be shy, quiet and boring. This is normally only when there is a change in their routine, or new people around that he has to get used to. Most times they are very animated, curious, affectionate, playful and intelligent pets.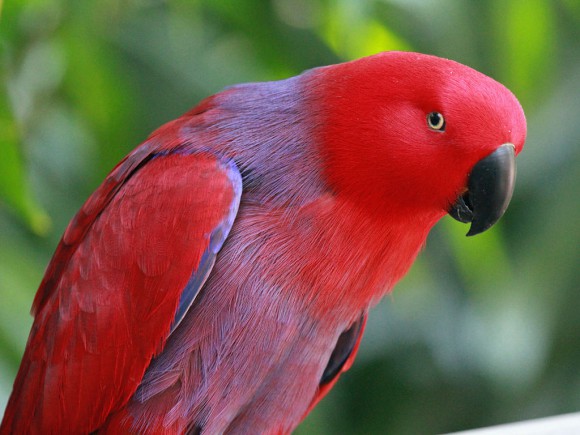 They are less noisy and destructive than other large parrot species. The average lifespan of an Eclectus Parrot is 30 years; but they should be able to live 50 to 75 years, just as other comparably-sized parrots do.
Books About Eclectus Parrots
Here is some recommended reading if you are considering Eclectus Parrots as pets, or if you have one already.
Overall Rating (based on customer reviews): 4.3 out of 5 stars

 The specs of 'Eclectus Parrots (Complete Pet Owner's Manual)' are:
Publisher: Barron's Educational Series (2002-02-01)
Language: English
ISBN-10: 0764118862
Product Dimensions: 7.2×6.3×0.3 inches
Shipping Weight: 0.4 pounds
Here are some REAL customer reviews:
"Excellent and Very informative for such a small book!"
"easy to read" book with so much wonderful information. Katy does a great job of clearly describing the personality characteristics of the beautiful… Read more
"Best Eclectus Book So Far"
There have only been 3 other books written about the Eclectus parrot, and all of them are outdated and focus mainly on breeding. Ms. McElroy has done an excellent job in gathering the latest information for the pet Eclectus owner and presenting it in an… Read more
"wonderful eclectus reference guide"
This book is really good for general information on caring for an Eclectus parrot. Gives good insight into their personalities and behaviors. Book is full of beautiful pictures and directions for preparing food for the Eclectus. For anyone who loves… Read more
Get Eclectus Parrots (Complete Pet Owner's Manual) at the best price available today.
And here are two more great books to check out:
Eclectus Parrots basic care and needs
Eclectus parrots complete book