Clipping cockatiels wings is an easy skill to learn, and it will save you a lot of money if you can learn how to do it.
If you own a cockatiel, and you take him out of his cage a lot, it is essential that you keep his wings clipped, no matter how tame he seems.  You don't want to take the risk of him flying away, and it could happen so easily, even to the tamest of birds.  All it takes is a sudden movement or loud noise, and your cockatiel could get a fright and fly away.
I used to take my cockatiel to the pet shop each time, as they clip cockatiel wings, and it cost about R30 a time, which is not a hell of a lot of money, but over time it can add up and in time too, as well as the time it takes chasing after a runaway cockatiel.  If you can learn to do it yourself, you can do it quickly and easily with very little stress to your little pet.
So How Do I Clip Cockatiel Wings?
The video above explains beautifully just how easy it is to clip cockatiel wings.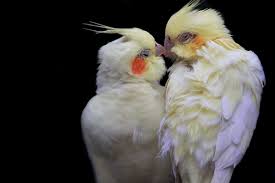 Some Important Notes When Clipping Cockatiels Wings
The trick is not to trim too much off of your birds wings, as you need him to still be able to land safely if he falls or decides to take flight, but you want to clip enough off so that he doesn't head off into the skies.
Do not clip the wings of very young cockatiels before they attain motor skills and know how.  Otherwise they will not learn to land and can hurt themselves or break their tail feathers when landing.
When clipping a cockatiel's wings, be sure to do a symmetrical job, trimming both wings an equal amount. Your cockatiel not only will look good but, more importantly, will be balanced when it flies or sails along. You don't want to make your pet clumsy.
Never clip more than 10 primary feathers.  The fewer you trim, the higher the bird will be able to fly.
Be very careful not to cut too high up on the feathers, or you could hit a blood feather which will cause the bird to bleed.  If this happens you will need to pull out the entire feather, or take the bird to the vet.  Any feathers encased in a white sheath are blood feathers.  Do not cut these.
When clipping his wings, make sure to use sharp scissors.  Hold the birds head between your index and middle fingers to prevent him from biting you.  Gently but firmly open his wing and work from the outside in.